Banarasi sarees for Bengali wives!
1. A Cute Punch Pink Benarasi Saree Look That Looks Indeed Elegant!
Our simplistic beauty here has done a beautiful 'dudhe aalta' coloured banarasi saree with intricate golden embroidery all over the body. The rosette motifs on the saree are giving a romantic vibe to the overall look. She has beautifully blended her intercultural marriage outfit with the Marathi green Chura, and elaborate Matha Patti with her Banarasi saree for Bengali bride look!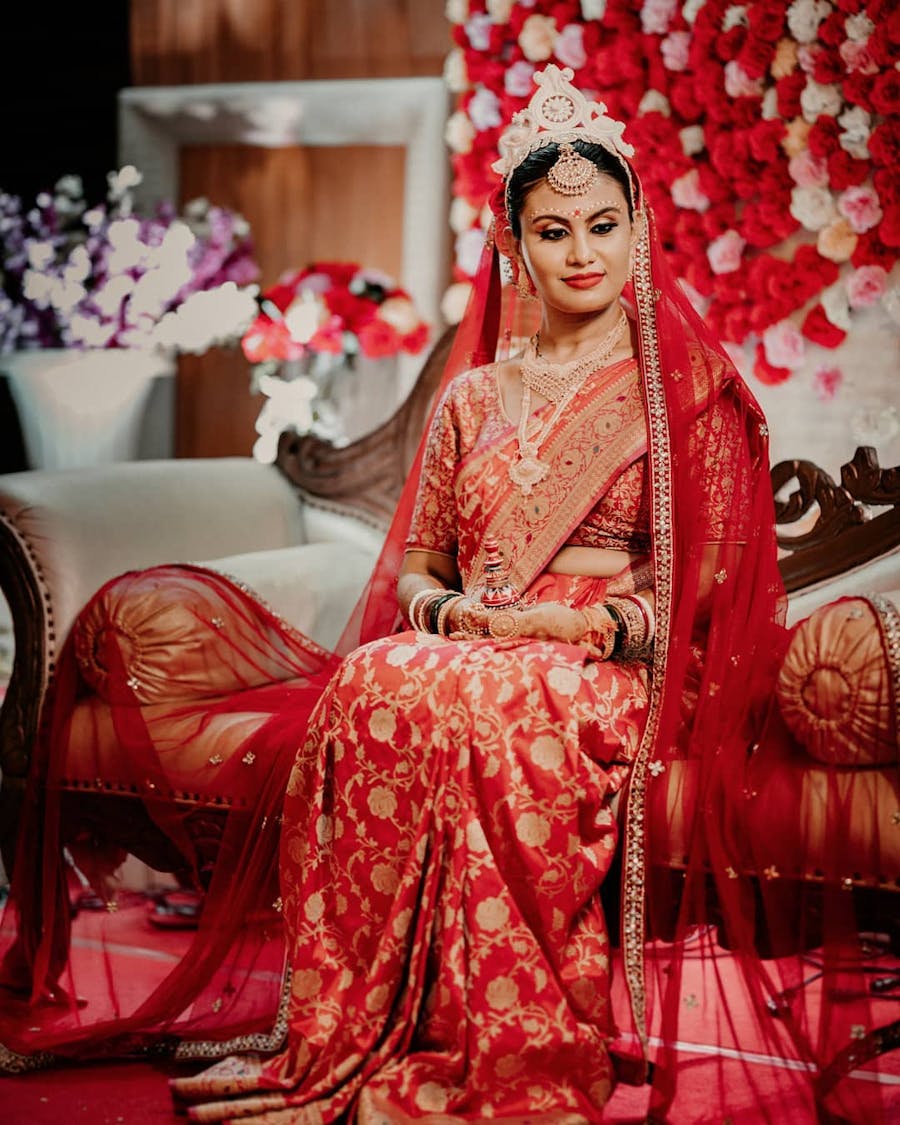 2. This Bride Here Has Worn A Beautiful Sea Green Banarasi Saree
No this is what we call an absolute simplistic glory. The beautiful sea green banarasi saree is something indeed unique and sophisticated that our bride here has posed in. The mini Butti works all over the body, and the meenakari work on the border is indeed the attraction of this wedding banarasi saree for Bengali marriage. The bong beauty here has finished the look with a simple noli haar set and a simple minimalist makeup.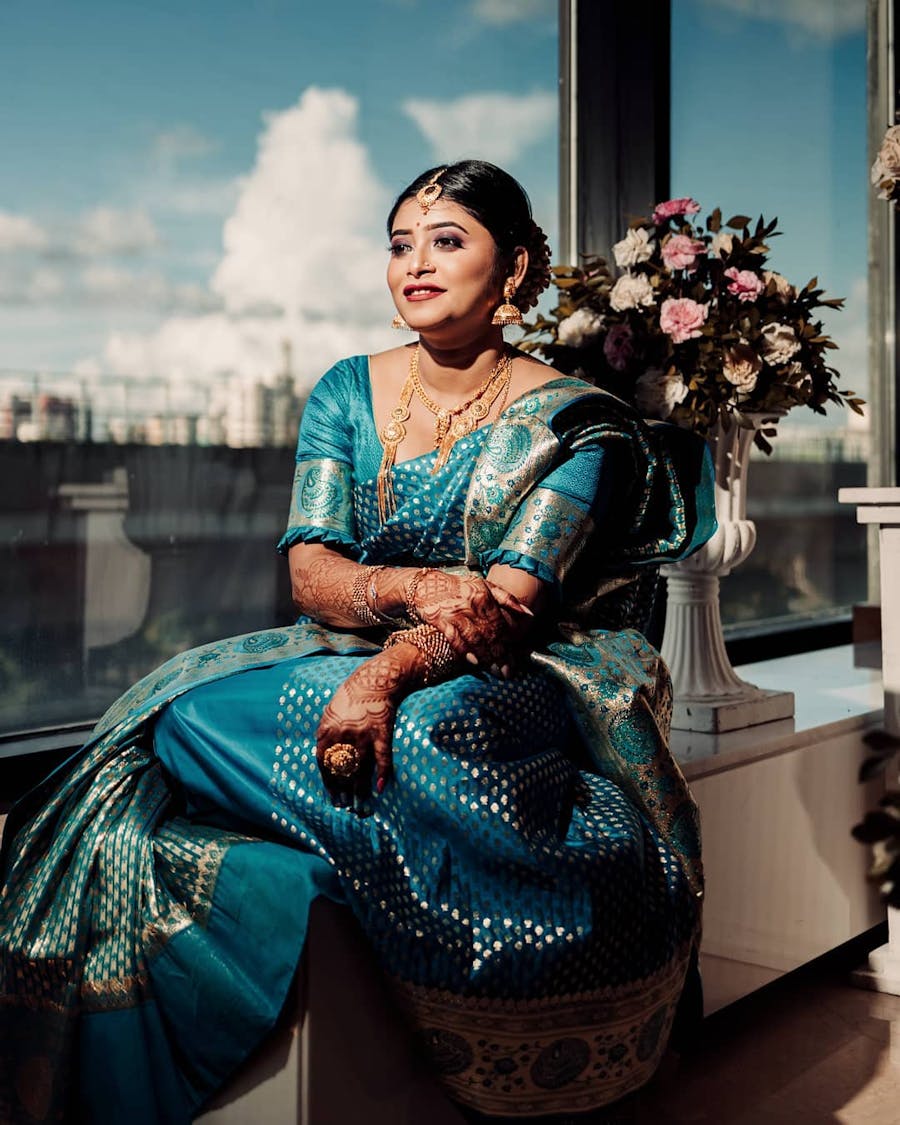 3. How Do You Like This Dual-tone Banarasi Look?
Our beautiful Calcuttan Dulhan here has worn a beautiful dual-tone korial banarasi saree. The mind-boggling illusion of corals and fuchsia is giving the saree a very unique touch of magic. Hse has paired her saree with a very simple Kundan jewellery set, and a sheer coral veil. Indeed a very distinct subject for a Bengali wedding photographer.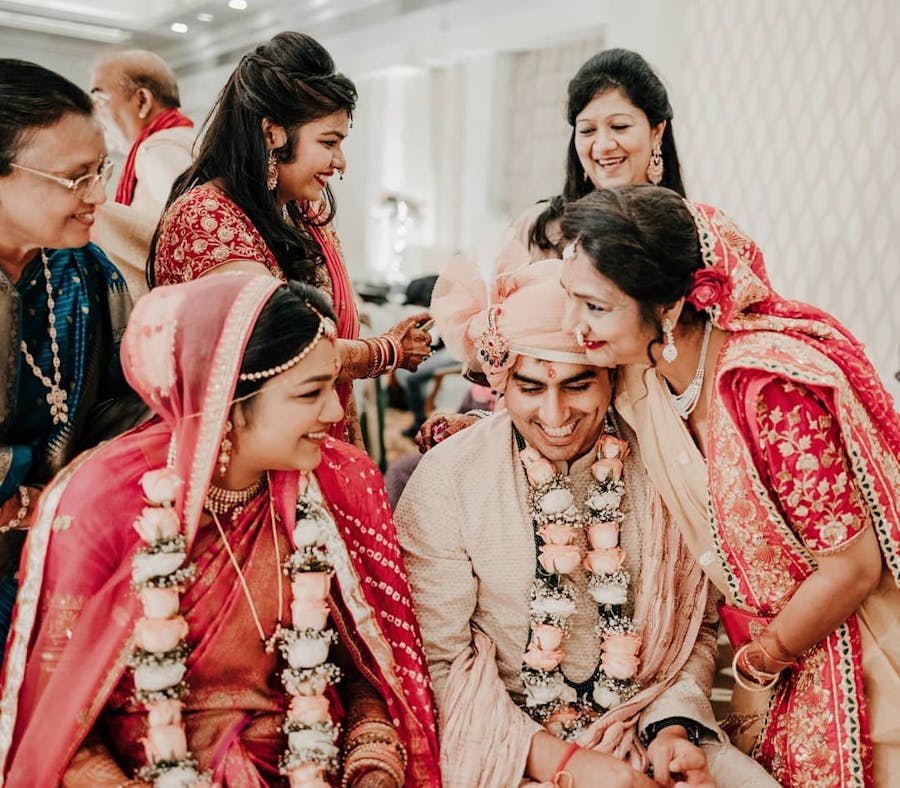 4. A Bright Vermillion Red Banarasi Saree Look For This Morning Bride!
Vermillions and reds have been the most staple shades when it comes to the choice of Bengali wedding saree for bride. Our NRI bride here perfectly carried a very traditional bong bridal look in a vermillion banarasi saree. Right from the crown to the tip of her toes, the way she has completed her OOTD is definitely droolable by many of the to-be brides reading our blog today!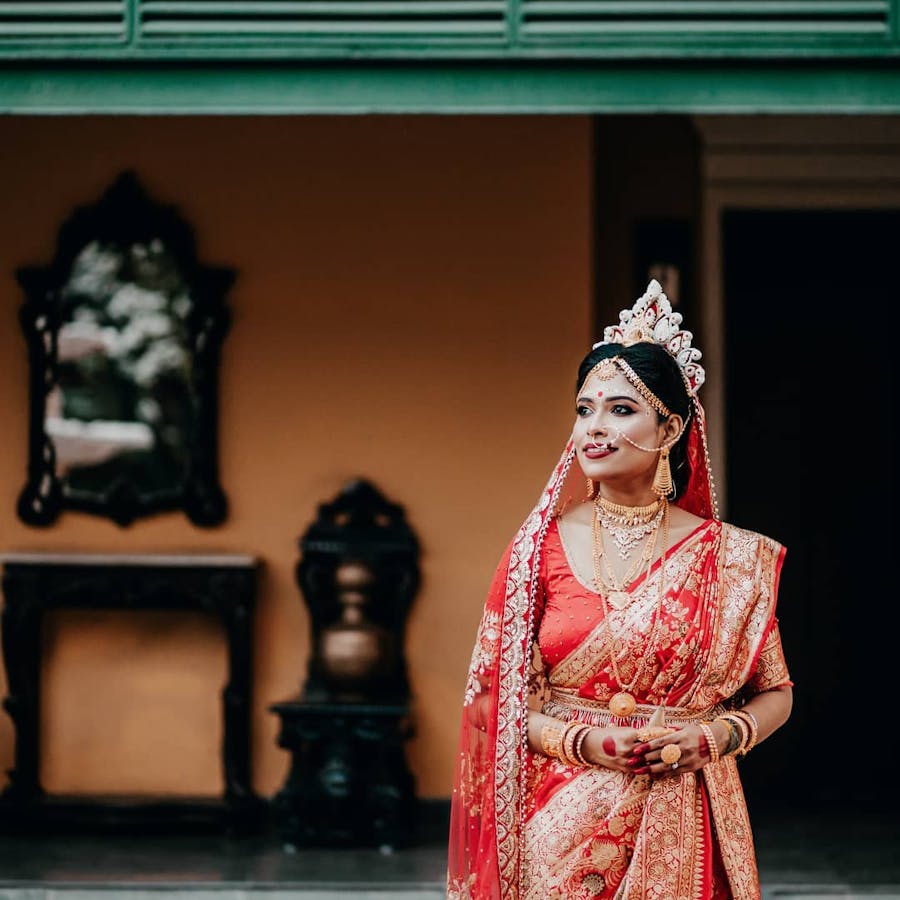 5. A Beautiful Combination Of Traditional Red Banarasi With Green Blouse
And what a regal combination of carnelian red and green is the OOTD of our bride here. She has worn a beautiful red swabeki banarasi with mini buti kolka work all over the body and an elaborate embroidery in golden zari in the pallu portion. The blouse she has paired with her saree is giving a definition to the entire look.