Bridal Jewellery you must check out!
Maang Tikka
Firstly, mango tikka is worn by women on the centre parting of the head. It is a traditional piece of jewellery and a way to transform you into a beautiful princess. Erstwhile princesses and royal women wore the maang tikka. A heavier tikka goes well with a broad forehead while a lighter one looks elegant on a forehead smaller than average.
Multipurpose jewellery is in these days. So for those keen on buying jewellery that can be used in multiple ways, it is advisable to pick a necklace or even an earring which can be substituted as a maang tikka. You just need to act smart while picking those jewellery pieces.
Kalyan Jewellers has listed out a beautiful collection of gold maang tikkas. It includes both simple designs as well as headgear type designs made in 22k yellow gold with the gemstones set in bezel setting.
The Temple Jewellery maang tikka is a very elaborate and ornate one. It is typically worn by South Indian dancers.
Earrings
It is always a good idea to invest in earrings that you can use on your wedding day and post your big day as well. You can choose your traditional look by opting for gold earrings, temple earrings, chandelier earrings, polki and pearl chandbalis, diamond and gemstone drop earrings.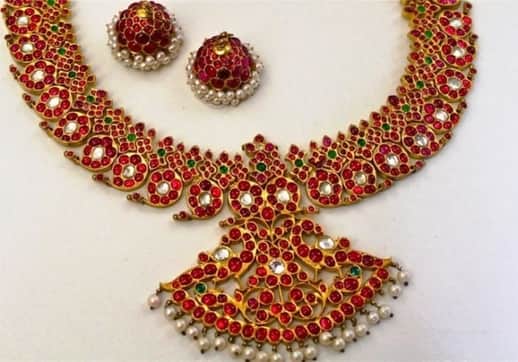 Make sure you don't go for very heavy earrings as they may cause discomfort to you if worn for prolonged periods.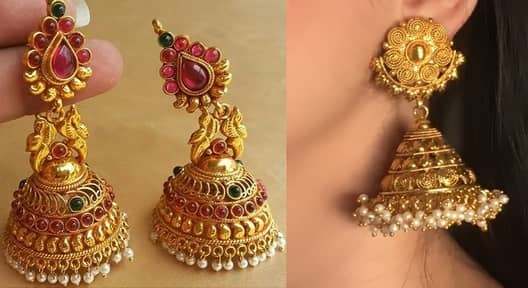 Jhumkas are traditional Indian cone shaped or bell shaped earrings that are hollow inside. Check out these earrings for your special occasion.
Nose rings 
If you want to add another ethnic piece of jewellery to your bridal look, even a simple nose ring can work wonders!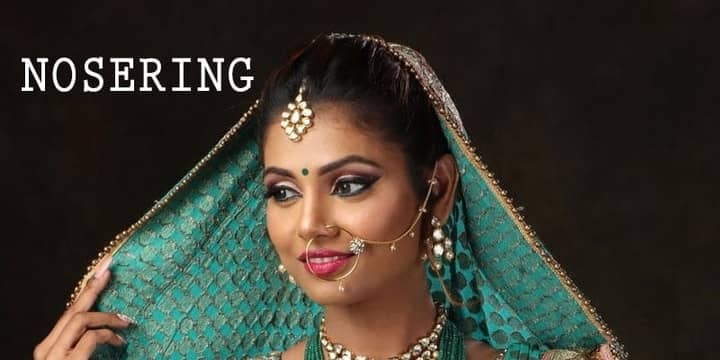 Nose rings are fashionable these days with pop stars like Madonna and Lady Gaga sporting them. The conventional bridal look is incomplete without a traditional-looking nose ring. In case your nose is not pierced, clip-on nose rings are also available.
Necklace
An exquisite traditional necklace is all that you need to give a well dressed and refined touch to your personality. A necklace not only helps cover the bare neck area but also enhances the overall bridal look.
You can pick the one that matches well with the overall theme of your attire. Let's list out 7 hot necklace styles Indian brides are in love with these days – Choker, Satlada, Navratan, Gulbandh, Bib Necklace, Collar Necklace, and Guttapusalu.
However ,it is not just gold that rules the jewellery boxes of today's brides, they instead prefer necklaces made of gold accompanied with kundan, polki or diamonds.
Mangal Sutra
The mangal sutra is a piece of yellow thread or chain which is tied or put on the bride's neck by the groom. Mangal means auspicious and sutra means thread.